Description
Spare concentric rings for the EZ Spare Universal Wheel.
(these are included in the complete kits)
This simple but ingenious spare wheel will fit almost any vehicle thanks the patented EFS™ adaptors.
The EFS (Easy Fit System™)
The Easy Fit System™ IS an innovative design of adaptors that is the key piece behind the Universal Spare Wheel and is the hardware which makes the EZ Universal Wheel fit safely on most vehicles. The EFS™ patented fitting system comprised of various specialised PCD adapters, hub centric rings and various sizes of bolts and nuts, Using the quick fit guide APP (available for Apple iOS & Android Auto) makes it quick and easy to find the required EFS™ hardware needed for the specific vehicle.
The EZ Spare fitment guide mobile APP is available for download here:


Download and view the thousands of vehicles the EZ spare fits.
Details
| | |
| --- | --- |
| Weight | 0.1 kg |
| Concentric Ring Size | 67.1/52.1mm dia. Green, 67.1/54.1mm dia. Silver, 67.1/56.1mm dia. Nature, 67.1/56.6mm dia. Beige, 67.1/57.1mm dia. Red, 67.1/58.1mm dia. White, 67.1/58.6mm dia. Ivory, 67.1/59.1mm dia. Grey, 67.1/59.6mm dia. Turquoise, 67.1/60.1mm dia. Black, 67.1/63.4mm dia. Dark Brown, 67.1/65.1mm dia. Yellow, 72.6/56.6mm dia. Anthracite, 72.6/57.1mm dia. Pink, 72.6/58.1mm dia. Vermillion, 72.6/59.5mm dia. Turquoise, 72.6/60.1mm dia. Dark Blue, 72.6/63.4mm dia. Dark Brown, 72.6/64.2mm dia. Light Blue, 72.6/65.1mm dia. Yellow, 72.6/66.1mm dia. Purple, 72.6/66.6mm dia. Brown, 72.6/67.1mm dia. Orange, 72.6/70.1mm dia. Light Green, 76/70.6mm dia. Black, 76/71.5mm dia. Black, 76/72.6mm dia. Red, 76/74.1mm dia. Blue |
navigate_before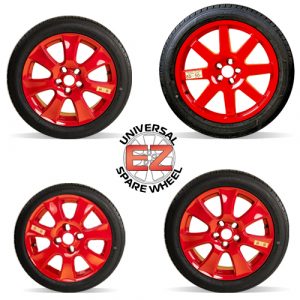 >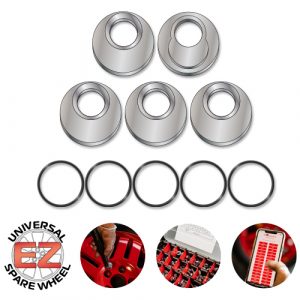 navigate_next