Description
High visibility trousers with highly elastic stretch panels for superior comfort and large freedom of movement. Main material of durable dirt, oil and water-repellent material with soft cotton inside. Can be washed at 60 degrees.
Stretch panels on sides, yoke and crotch
2 side pockets / D-ring / 2 back pockets with zip
Double reinforced crotch seam
1 large bellowed leg pocket with folding rule pocket and document pocket with velcro fastening
Multifunction leg pocket with phone pocket, ID-card pocket, zip pocket and folding rule pocket
CORDURA® reinforced knee pockets with inside opening with height adjustment for knee pads in knee pocket
CORDURA® reinforced leg end
Approved according to EN 14404 together with kneepads 124292
EN ISO 20471 class 1 / OEKO-TEX® certified
Material: 80% polyester, 20% cotton. 300 g/m². Stretch fabric 91% nylon, 9% elastane.
Weight: 300 g/m². Stretch fabric 250 g/m².
Details
| | |
| --- | --- |
| Weight | 1 kg |
| Colour | Hi-Vis Orange & Navy Blue, Hi-Vis Red & Black, Hi-Vis Yellow & Black, Hi-Vis Yellow & Navy Blue |
| Fristads Trouser Sizing | W30" L31.5" (C44), W30" L29.5" (D84), W32" L31.5" (C46), W32" L33.5" (C146), W32" L29.5" (D88), W33" L32" (C48), W33" L34" (C148), W34" L29.5" (D92), W34" L32" (C50), W34" L34" (C150), W36" L30.5" (D96), W36" L32" (C52), W36" L34" (C152), W37" L30.5" (D100), W38" L30.5" (D104), W38" L32" (C54), W38" L34" (C154), W40" L30.5" (D108), W40" L33" (C56), W40" L35" (C156), W42" L31.5" (D112), W42" L33" (C58), W44" L31.5" (D116), W44" L33" (C60), W48" L31.5" (D120), W46" L33" (C62), W48" L33" (C64), W52" L33" (C66) |
navigate_before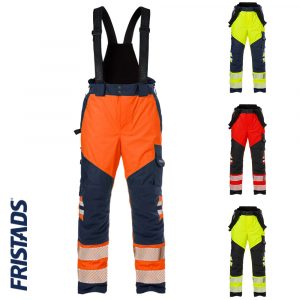 >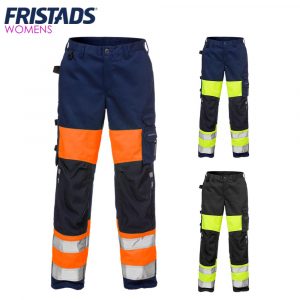 navigate_next