Description
SOS Boosters are high quality booster packs, portable and mobile for professionals, developed to meet all the needs of garages, workshops and recovery operators – and others! Suitable for starting cars, vans, lorries, trucks, buses, quarry and plant machinery, aeroplanes and trains! The power of the SOS Booster is the result of the selection of the best components from all over the world. They are chosen for their quality, reliability, efficiency and durability with the ability to withstand severe use environments.
Features
Suitable for 12v Petrol, diesel, light trucks, 4x4, agricultural service and heavy trucks. 24v Diesel engines up to 500HP when the vehicles batteries are discharged. Up to 250HP without batteries on the vehicle.
Voltage - 12v and 24v
Cranking Amps - 1600/800a / Peak Amps - 4500/2250a
Number of Batteries – 2
Cable length - 1.35 Metre / Cable Diameter - 35mm2
Clamp Length - 215mm / Clamp Opening - 54mm
Automatic Charger - 1.3A
Comes with 12v Outlet (16amp fuse protected)
Reverse Polarity Signalt to prevent damage
Internal Fuse on Batteries
Weight 20.5 kg
Size - 53 x 16 x 48cm
The battery is designed for extra ordinary energy storage and delivery capacity at very high currents.
One piece body for extra strength to reduce risk of breakage if dropped. Lightweight yet robust shell case design, resistant to shocks and corrosive materials.
Lifetime guarantee on the jump starter case.
Robust wide opening Clamps with bronze jaws, high resistance to short circuits for longer life span. Fully insulated with copper trace to ensure current to both jaws.
Copper double insulated cables long enough to use booster from the ground (one man operation).
Cables have optimal flexibility that keep their shape, to avoid damage to wires. Will not distort or kink and resistant to temperatures from -30° to +90° Celsius.
Cigar lighter plug, protected by a plastic cap from water and dust and protected by a 16a fuse.
Illuminated voltmeter allows you to check charging level of booster and the alternator output. Precise display showing exact voltage.
The charging unit is just as important as the booster. It is electronic and fully automatic so when charged it turns to trickle mode to keep the battery in optimum condition. 12v in car charging lead for car auxiliary socket included.
These boosters when used correctly as per the manual CANNOT damage vehicle electrics.
SOS Boosters are manufactured in Europe.
2 year guarantee.
navigate_before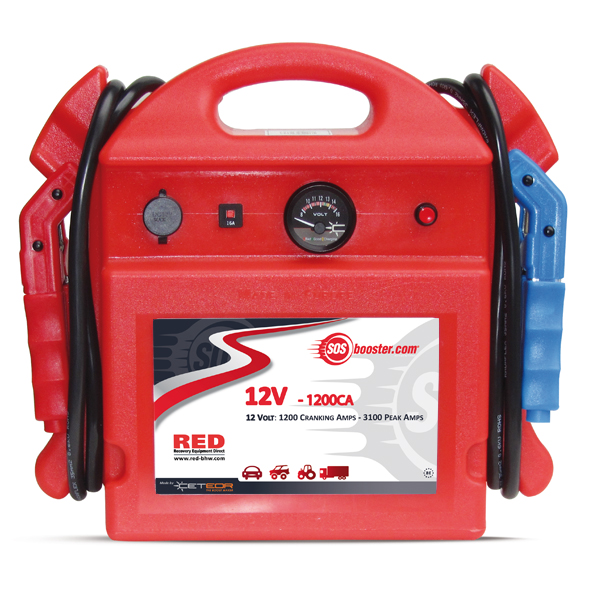 >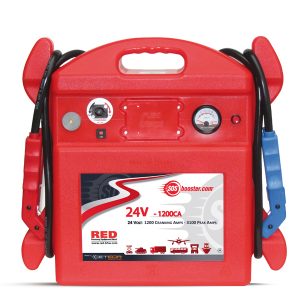 navigate_next