High Visibility Clothing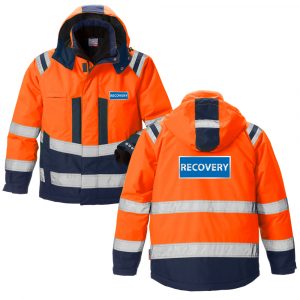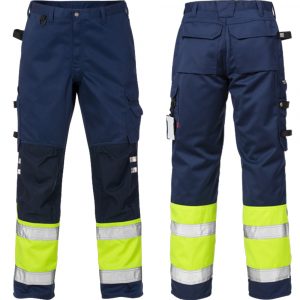 High visibility clothing has never been more important.   With the increased focus on protecting operators working at the roadside, it is important to remember that ensuring that you and your team are always equipped with good quality, clean ISO EN20471 clothing is paramount.
Clothing of this standard ensures the operator is visible both day and night from much further distances to oncoming drivers.  Luminous fluorescent material can be seen up to 300 meters away, when normal visibility is no more than 50 meters – so it makes a big difference.   This "high-vis" fabric must be kept as clean as possible to ensure maximum daytime visibility.
High visibility clothing meeting the ISO EN20471 standard ensures that reflective tape, which reflects other drivers' lights, will be highly effective in low light, darkness or poor visibility conditions.  It ensures that the tape must also be placed to outline the torso and arms of the wearer.  To meet this standard the tape must withstand a minimum of 25 washes without impacting its reflective properties.
RED continuously strives to deliver the Recovery Industry with the latest in carefully selected protective clothing.  RED's clothing range focuses on four main elements for the recovery operator:
Conspicuity and safety:  Incorporating the latest in technology, and meeting the highest industry safety standards.
Durability and Image:  Clothing selected by RED is engineered to protect you in extreme working environments, but keeps you looking great – so operators will want to wear it.
Comfort & Mobility:  RED's clothing is chosen with comfort in mind, breathable yet waterproof fabrics designed for hard work in all conditions.
Performance and Value: Highest quality products designed to withstand the rigours of the job, with competitive prices.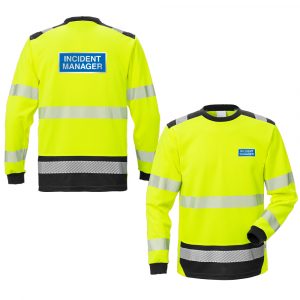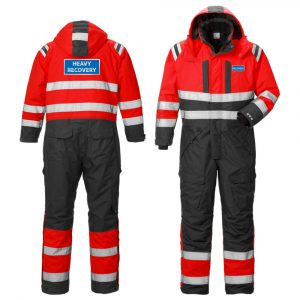 RED hold a large range of stock from our three key clothing suppliers, Fristads Kansas, Sioen and Mascot, including an extensive range of EN20471 certified jackets, trousers and hi-vis long-sleeve tops, as well as hats gloves, helmets & other clothing items all selected specifically for recovery operators.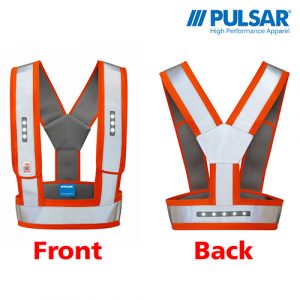 ACT350 | PULSAR® Active Harness with LED Technology
Bright LED modules have been integrated into the front and rear of a high-vis harness, which can be switched between two flash patterns or constantly lit.   If the harness is worn over the operator's standard compliant high visibility clothing ISO EN 20471 PPE the wearer is now "actively" warning road users of their whereabouts, dramatically increasing the distance from which they can be seen at night or in poor visibility conditions.
​The Technology:
A total of 11 LED lights to front and rear.
3 different light modes, Soft Flash (up to 20 hours battery life), Rapid Flash (up to 15 hours), Constant (up to 10 hours).
Tested to ensure no risk of epilepsy.
26-32 watts output (2600 lumens) per LED, the equivalent of a 150 watt light bulb.
Lithium-ion battery charges from flat in 5 hours (5000 full recharges).
Charged by mini USB lead (included).
ICEid "In Case of Emergency" tags included with each garment, containing a link to a person's secure and private emergency contact details and medical information which can be accessed by a first responder within seconds.
The Features:
Reflective tape to shoulders and waist.
Velcro adjustable shoulders and waist to allow a comfortable and secure fit.
Velcro closure allows a quick release to prevent the risk of entanglement.
Lightweight with inbuilt padding for comfort and LED loom protection.
Integrated LED Active Technology.
PU polyester outer fabric.
Grey mesh "spacer" inner fabric.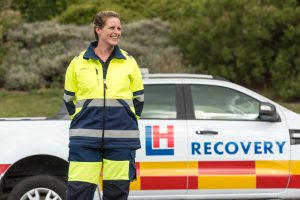 Women's High Vis Clothing
RED offers a range of Fristads' New Women's high visibility clothing, which has been successfully tested by some of the Recovery Industry's leading female operators including Melanie Bell from Bell Truck Services and Tina Lee IVR Trainer; from Lee Hire Recovery. Here's what our testers told us about how the clothing held up:
"The clothing is very high quality, washes really well, and the reinforced knees are great, keeping you dry when out on a recovery.  They are comfy and easy to move around in.  The rain just ran off, the winter jacket kept me so warm."
"The trousers are tough enough, just as good as the men's Fristads Kansas trousers, which last really well."
"I love the softshell jacket, it is really comfy and cosy to wear when training, as well as looking really professional."    
"Because of the fabric I don't have the problems with the water running off and soaking my trousers like I do with the jacket I have been wearing, it is also much more breathable which makes it really comfortable to work in".
"The reinforced knees in the Trousers make kneeling more comfortable, which is so important for a roadside technician, in addition, washing the trousers the dirt comes out very easily, and there are no signs of bobbling or shrinkage."
Women's Clothing Roundup:
Great quality fabric
Fits well – especially across shoulders, at waist, and leg
Reinforced Knees excellent for keeping dry
Winter jacket, warm, windproof, breathable
Comfortable and easy to move around in
Rain ran off the fabric on the jackets, keeping the wearer dry
Tough and durable
Washes well – dirt comes out even with non-biological detergent
Lightweight fabric
Highly visible – lots of high vis and reflective areas
Go down a size for the perfect fit
Available From RED:
See full range here of womens high visibility clothing 
Fristads Womens 2139 PLU Workwear Trousers
Fristads Womens 2708 PLU Stretch Workwear Trouser
Fristads Womens Airtech High Vis Winter Jacket 4037 GTT
Fristads Womens Workwear Jacket 4129 PLU
Fristads Womens High Vis Soft Shell Jacket 4183 WYH
Social Media Links: