Exciting Launch of Women's High Vis Recovery Uniform
NEW High Vis Work Wear, Designed for Women – Tested by Three of the Best
Samantha Charles, Highfield Garage & Recovery Ltd
Tina Lee, LH Recovery
When Fristads Kansas recently launched their range of High Vis clothing specifically designed for women, the team at RED were very enthusiastic, given the growing number of female recovery operators in the UK.
RED are however always cautions when it comes to new product launches, and keen to find out how items will stand up to the rigours of the tough recovery job, so approached three well respected recovery companies to carry out testing.
Melanie Bielby-Bell; Heavy Recovery Operator from Bell Truck Services, Tina Lee; IVR Trainer from LH Recovery, and Samantha Charles; Roadside Technician from Highfield Garage were all excited to hear about the new clothing, and keen to put the garments through their paces. Each of the operators wore the clothing to work for a month, and gave RED their feedback.
Samantha Charles has progressed her career as a technician, working for prominent companies such as Alpha Romeo, Porsche and Saab, and has a Level 4 NVQ in Advanced Vehicle Diagnostics. Samantha took the decision to develop her skills by moving into a roadside assistance role, and with the help of F1 Personnel secured a role with Highfield Garage and Recovery Ltd earlier this year, and has been going from strength to strength.
Highfield are a highly successful operator based in Exeter, founded by Jon Cox in 1982. They work on behalf of all the UK's key recovery clubs, hold the local Highways and Police contracts, as well as running garages at both of their sites in Exeter and Spreyton, offering a mobile tyre fitting service, storage and SOCO facilities; Exeter is also a Bosch Service Centre. Operating with a team of over 40 staff including 17 technicians and 14 recovery operators, with their IVR training delivered by Recovery Safe Services.
Highfield run over 40 vehicles of which include service vans, spec lifts, slide beds up to 7.5t, accident tenders and HIAB's, with a new Accident Tender and two new MAN 15t Slide beds currently in build by J&J Conversions. Their new vehicles will feature the BHW ReelSmart system, and will be ready for collection by Jon at the Professional Recovery Tow Show, from the J&J stand.
Samantha was thrilled with the clothing she trialled. Having quickly discovered that the Fristads Kansas clothing is generously proportioned, she went down a size and all the items fitted her perfectly. Her favourite item was the Hi Vis Winter Jacket Woman CL3 4131 PP – this is a fully lined warm jacket, which has an extended back for extra cover. "I love this jacket, because of the fabric I don't have the problems with the water running off and soaking my trousers like I do with the jacket I have been wearing," explained Samantha, "it is also much more breathable which makes it really comfortable to work in". Samantha also loved the reinforced knees in the High Vis Trousers Woman CL 1 2139 PLU which made kneeling more comfortable, which is so important for a roadside technician, she has also washed the garments several times and found the dirt comes out very effectively, and there are no signs of bobbling or shrinkage. She described the items as looking really smart, and highly professional, fitting really well, and having loads of pockets that were really useful for her job. Although the items are more expensive than those she has had before, she did feel the quality of the fabric, and the details of the design, and improved fit for women meant they would be a worthwhile investment.
Melanie Bielby-Bell has recovery in her blood. Her father Robin Bell started Bell Truck Services in Beverley 1979, having served his apprenticeship at Crystal Ford of Beverley, then joined Watts Brothers of Beverley a large haulage firm in the East Riding of Yorkshire as a mechanic and recovery driver, he gained considerable experience in recovering Heavy Goods Vehicles.
Bell Trucks Services first recovery vehicle was a Morris Commercial 4×4, fitted with a Weaver Crane. This vehicle is still occasionally used to recover vehicles from difficult muddy terrain. They now have over 20 vehicles including slide beds, service vehicles, accident units, off road vehicles, a teleporter and low-loader. The company is one of the most highly accredited AA operators, working also closely with the RAC, Inter Partner Assistance AXA, and are part of AVRO, RRRA and members of the IVR, with Judge Power providing their training.
Mel completed her HGV training as soon as she could aged 21, and joined the company full time to work alongside Robin, and her mother Rose. Mel splits her time between running the office, and out running recovery operations – she is often called out of bed in the middle of the night on a job, and is a highly skilled heavy operator. Mel laughs when she talks about the customers who look at her slight build when she turns up to do a roll over, and enjoys putting the sceptics firmly in their place, with her professional approach to all situations.
Mel was really pleased to hear that Fristads Kansas was leading the way in developing professional protective work wear for women, and was keen to see if the garments would stand up to the job. Once again Mel needed to go down a size in the clothing, but once she had, they fitted her well. Mel described the High Vis Trousers Woman CL 1 2139 PLU as being a much better fit in the waist and leg, and much lighter to wear than the men's' trousers she was used to, despite the tough fabric they were made from. Mel liked that the design was slightly different from the men's, meaning they stand out, whilst remaining smart and professional. "Women need to stand out, we are unique in this industry," she explained when feeding back on the wearer trial to Justine at RED. "The clothing is very high quality, washes really well, and the reinforced knees are great, keeping you really dry when out on a recovery. They are comfy and easy to move around in. The rain just ran off, and the High Vis Winter Jacket Woman CL 3 4131 PP kept me so warm." She continued to say, "The trousers are tough enough, just as good as the men's Fristads Kansas trousers, which last really well." Again Mel felt they were good value for money given the design, fit and quality of the garments.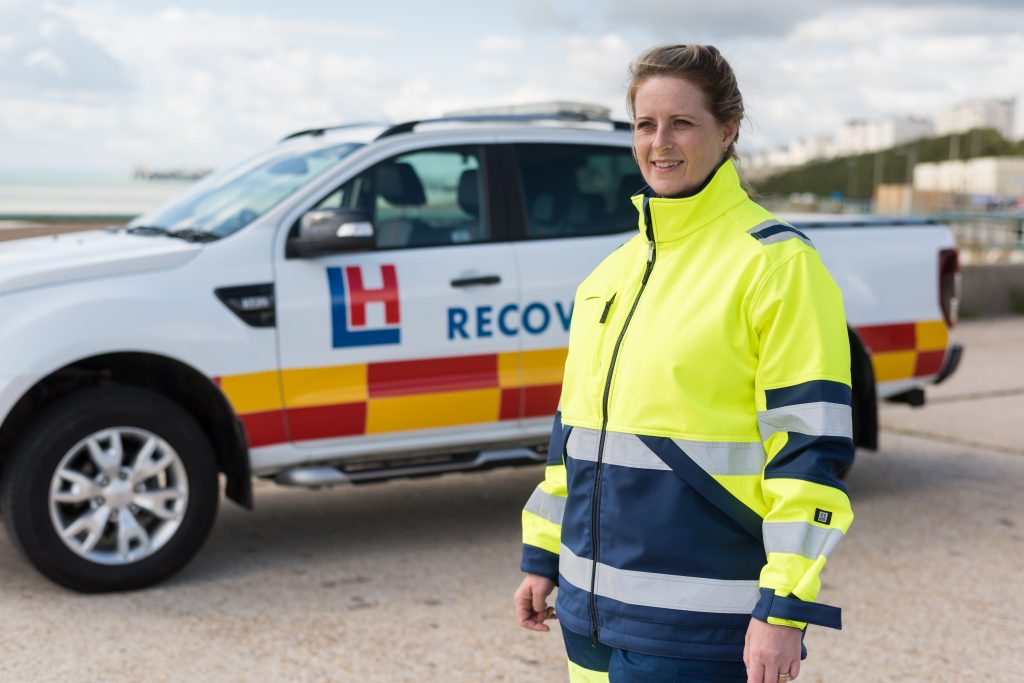 Tina Lee from LH Recovery was the final trialist of the new range. LH Recovery are a highly professional and expanding operator based in central Brighton. Established in 1969 and now run by the Managing Director and Owner Andrew Lee, alongside Recovery Manager Andrew Moon. LH Recovery and Lee Hire Ltd, offer a comprehensive 24 hour breakdown and recovery service fleet covering the South East and South coast of England, alongside extensive garage services. The business is East Sussex's specialist in providing MOTs, servicing and repairs for all road vehicles.
Tina Lee has been working in the recovery business for over 20 years, loves the job and has a real passion for training. Tina qualified as an IVR instructor in 2015, completing her ITSSAR with Mark Hartell.
Tina is responsible for training all of LH Recovery's new recruits which she takes very seriously. Once classroom training, and skills test have been successfully completed she personally accompanies the operators until they are fully competent and confident to operate alone. She is looking forward to expanding the training side of the business with the introduction of a new training suite on site at LH Recovery's Brighton base, where other recovery operators will be able to benefit from Tina's professional approach to training.
Tina was very interested to trial the new women's range of Fristads Kansas Clothing, and agreed with Mel and Samantha that the quality of the garments was high, with the robust stitching being a real stand out feature for her. Tina particularly loved the High Vis Softshell Jacket Woman CL 2 which she found really comfy and cosy to wear when training, as well as looking really professional. The key benefits of the range for Tina were that the garments were designed to fit properly, were very comfortable to wear, retained their shape without getting baggy, kept her warm and dry, and washed totally clean – even after pulling a One Series Land Rover out of a very muddy field for a customer completely stuck after a local festival!
RED are very grateful to Mel, Tina and Samantha for taking the time to try out the new range from Fristads Kansas, and can now confidently introduce them into their range at the 2017 Professional Recovery Tow Show, knowing that they will stand up to the tough needs of a professional recovery operator.
Now Available From RED:
High vis trousers woman cl 1 2139 PLU
High Vis Jacket CL3 4129 Woman PLU
High Vis Winter Jacket Woman CL 3 4131 PP
High Vis Softshell Jacket Woman CL 2
Fristads Kansas High-Vis Women's Wear Test Result Summary:
Great quality fabric
Fits well – especially across shoulders, at waist, and leg
Reinforced Knees excellent for keeping dry
Winter jacket, warm, windproof, breathable
Comfortable and easy to move around in
Rain ran off the fabric on the jackets, keeping the wearer dry
Tough and durable
Washes well – dirt comes out even with non-biological detergent
Lightweight fabric
Highly visible – lots of high vis and reflective areas
Go down a size for the perfect fit
For more information on this range or the full range of Recovery equipment and clothing that RED offer, please call the team on 01608 223200, or visit their website at www.red-bhw.com